Overview
An integral part of Gainwell's vision of co-creating an inclusive future stems from our belief that a truly sustainable world can only be achieved with economic security and independence of every individual. At Gainwell, we believe that by giving people the tools to lead healthy, productive lives, we can help them lift themselves out of poverty. Our programs in the areas of health, education and skill development are central to our corporate identity and they define how we do business. Our CSR efforts are not directed to merely spending money for discharge of our responsibilities but more importantly, they represent a collective article of faith which we aspire to live and uphold every moment of our life.

Our initiatives targeted towards the young minds help them to achieve their highest potential and enable them to grow into capable and productive members of society. We support causes that inspire students to dream big and with conviction and encourage them to start translating these dreams into action. The award of scholarships and educational assistance have helped several young students fulfil their aspirations. We support initiatives to provide special training to improve the mobility of visually impaired children so that they can grow up as independent, confident individuals. Our initiatives provide access to primary healthcare with special emphasis on women and children. We create life-changing opportunity to build a brighter future by enhancing self-empowerment of rural and semi-urban underprivileged youth.

Our commitment to positively influence the society we are a part of, is driven by our people through the volunteering program called 'Asha ki Udaan'. Aasha ki Udaan is one of the most engaging and meaningful ways we are effectively contributing to the greater good and making a difference through our people acting as agents of change; the change that we wish to see in the world.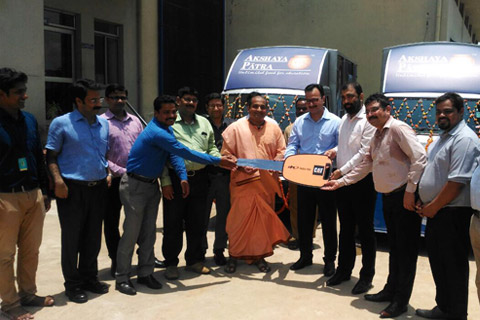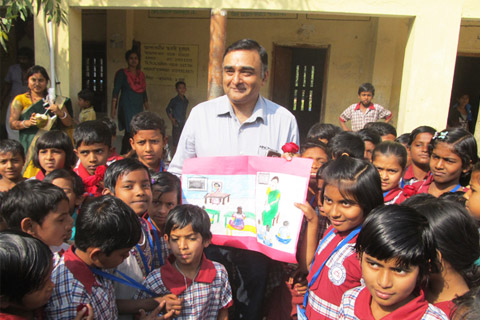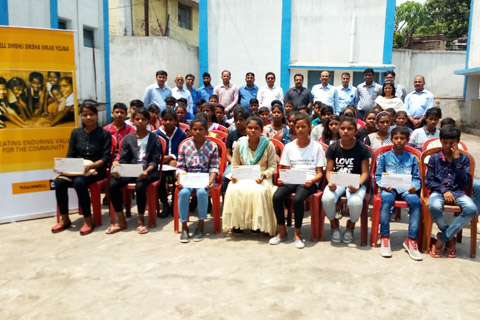 Roof for the little Angels: Antyodoy Anath Ashram
Antyodoy Anath Ashram, was built with the efforts of a single individual from the remote locales of Paushi, in Purba Medinipur, West Bengal. It was founded by Balaram Karan, with a single destitute child whom he found at the roadside. With time the number of children grew and he was forced to sell off his property and his belongings to meet the operational costs of running the orphanage. But he was determined to fulfil his vision - to improve the lives of the abandoned children from the most impoverished conditions, in and around Medinipur.

Balaram had taken a leap of faith in starting Antyodoy with his small personal savings and a big dream. Despite limited resources, he continued to take one child after another under his fold and today Antyodoy houses over 100 children.

Antyodoy's mission is to provide a strong foundation and change the lives of the abandoned children by providing a stable and safe home that nurtures their emotional, physical, and mental well-being. Their goal is to grow the minds and intellect of the young children so they have a bright future and can contribute to their communities. They also fund education for all the children.

The orphanage has helped to improve the lives of all the villagers and many other village children by establishing a school, improving the infrastructure of the village and arranging for regular medical check-up facilities, amongst others. The orphans attend regular school and some of them have also completed higher education. They are also given training for fine arts, yoga, and computers so that they can be vocationally independent later in their lives.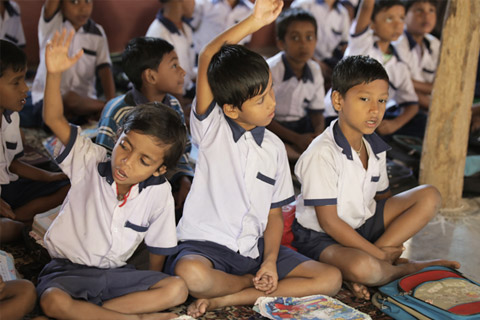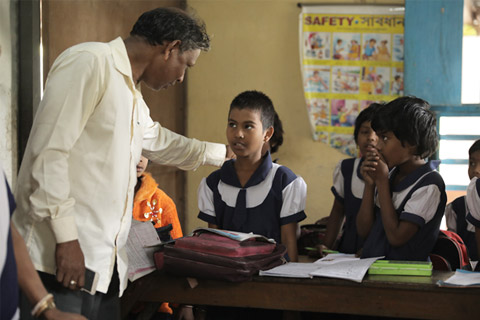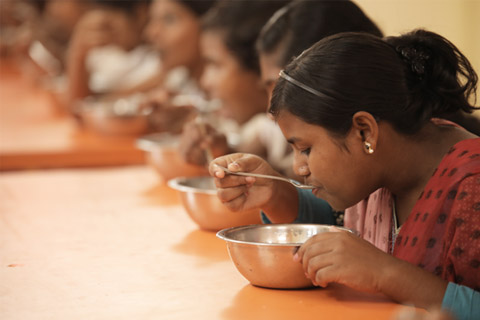 Health in your hands - Empowering the Self
With more than 100 million people in India likely to develop diabetes by 2030, this silent killer of a disease has become an epidemic. Doctors are now urging people to make healthy choices so that they can avoid this silent killer. They are encouraging all to eat healthy, be physically active, and avoid excessive weight gain. No other disease or condition places as much responsibility on the patient for daily management and control of a serious illness as diabetes. Even children and adolescents must make multiple daily adjustments to the treatment regimen based on such changing variables as food intake, physical activity and hormone levels.

In order to promote preventive health care with special emphasis on diabetes, we have been setting up regular medical camps at Delhi. These camps offer treatment and equip patients with sufficient and relevant information for them to make proper health decisions, the focus being on empowerment and experiential diabetes education. These free medical camps have been highly beneficial to thousands of patients who have low access to medical treatment.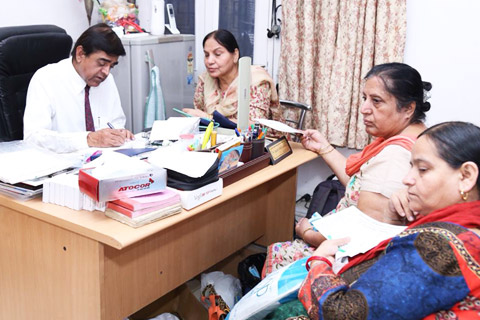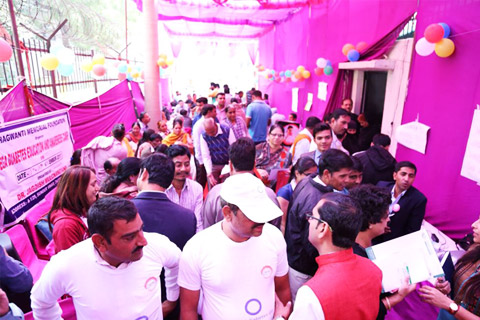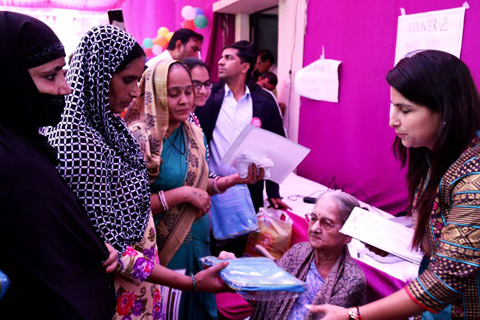 A Life of Dignity
India is said to have one of the youngest population across the globe. However, the flip side is that the elderly will constitute 20 per cent of the total population in the country by 2050, as per the State of Elderly in India Report 2014.

The underprivileged senior citizens are one of the most vulnerable segments of the community. Gaining access to healthy and affordable food, one of the basic necessity for sustenance, often becomes a challenge for the poor elderly. They lack the financial means and are often neglected by their own family. We, at Gainwell, are trying to provide sustenance and a life of dignity to several elders, through our association with Dignity Foundation by providing basic dry provisions every month to the very poor senior citizens who cannot fend for themselves. The objective is to enable them to lead an active, dignified and healthy life. The elders also get an opportunity to interact with others of their own age group and socio-economic background. The Kolkata-based project not only helps in the sustenance of the elders but also make them self-reliant as they engage in several vocational activities.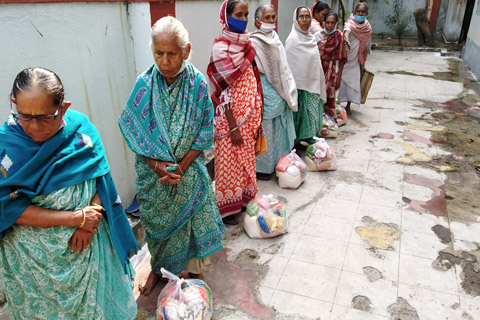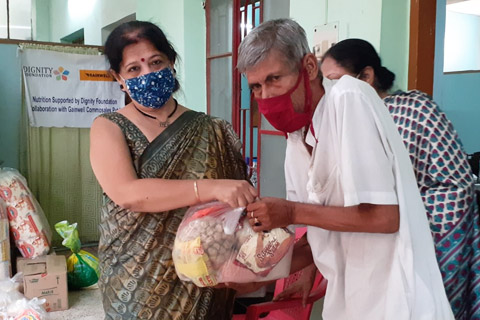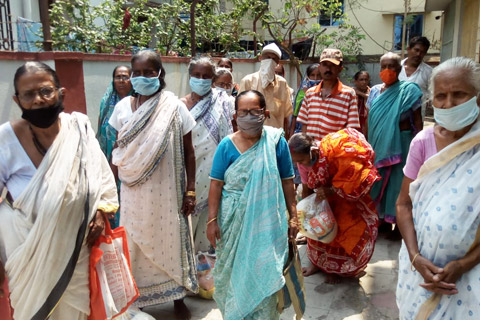 Ensuring sustainable changes at Kulpahar
The state of school education in rural India is quite grim. Due to socio-economic problems, a large segment of students is forced to drop out. For a family residing in rural India in abject poverty, the decision to send their child to school is essentially a matter of economics. The parents consider sending their child to school as a luxury and prefer to engage the child as another helping hand in the field. Education takes a backseat and the family continues to remain stuck in the vicious cycle of poverty.

To mitigate this problem, we have introduced a scholarship program for the students of Adarsh Niketan Junior High School at Kulpahar. The scholarship programme enables young children to take the first step towards a strong foundation for a bright future and usher in a sustainable change in the lives of the students. We have also supported the building of Usha Devi Adarsh Higher Secondary School at Kulpahar. Along with this, we have also introduced safe drinking water solutions in the 'mandi' area so that a large population can benefit from it.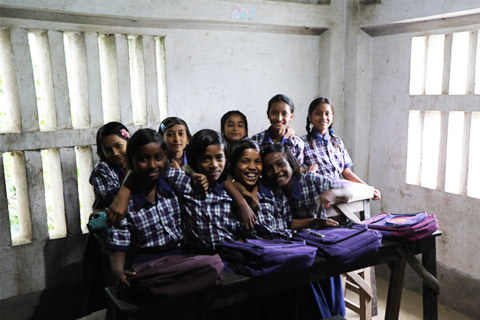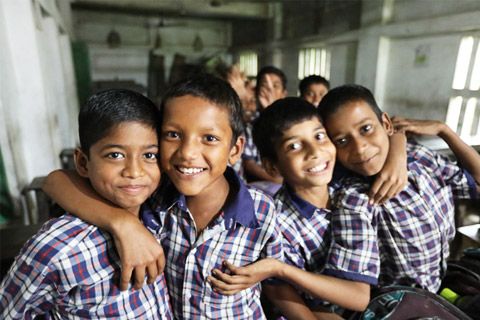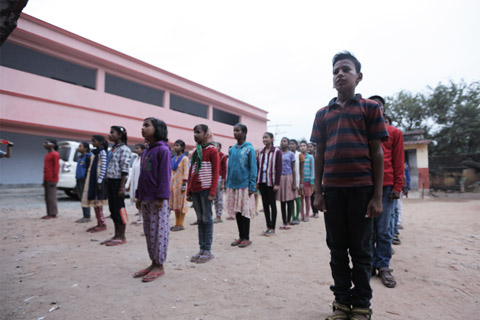 Ray of hope at Premasree
Premasree began in Kolkata with an aim of providing shelter, nurturing the love of knowledge and inculcating skill among underprivileged and differently abled children. This project aims at providing the best possible education in Braille to the blind children at Premasree. This includes: routine subject study, training in concept formation, and computer education.

At Premasree, the children get a "hands-on experience" of various activities. Sighted children have a visual image related to many of the words they use and the new concepts they encounter, so whenever possible, blind children need to be able to touch and hold what is being spoken about. The children at Premasree engage in farming so that they can better understand the concept of growing vegetables. In some subjects like mathematics they use more concrete materials to establish computational and applied number skills. During "Show and Tell" and Natural Science activities they handle all of the objects being discussed. However, it is not that they are able to hold every object that is being discussed viz a mountain, a giraffe, a bubble, a country or a river. So their understanding is aided by symbolic representations as it helps the students to better understand appearance, function, size and scale of objects. This is done through models of aeroplanes, animals, cars, trains and others.

Through our support, Premasree has procured brail books and other relevant educational aid instruments to facilitate learning. Computer software has been installed and kids are being trained to make them computer literate. Various concept formulation materials have been procured and used to assist their learning and understanding through improvement of motor skills. Special training is conducted to enhance various vocational skills, including spice preparation, paper bag making, floor mats, folders etc. Recreational activities are also conducted to boost their physical and mental strength. Along with general and regular medical check-up, special physiotherapy and nutritional sessions have also been provided and a dedicated physical trainer has been employed.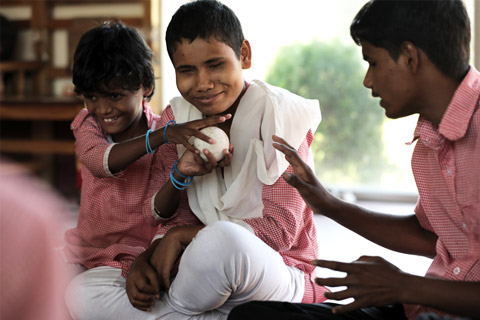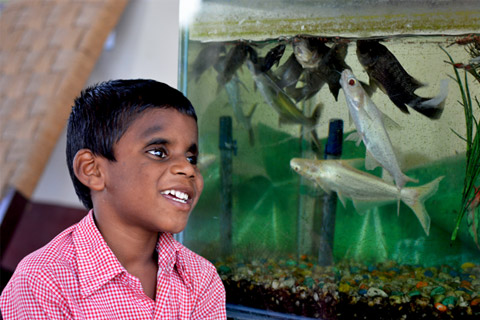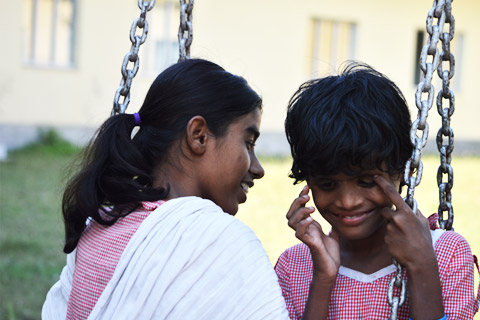 Creating a brighter future through Self-Empowerment
A sustainable world can only be achieved with the economic independence of every individual. While population grows, employment opportunities remain limited and of poor quality for young people in rural and semi-urban areas. The underprivileged, rural and semi-urban youth face a whole set of different challenges when seeking employment. They often earn low wages and face unsafe, exploitative working conditions, which force them to migrate to urban areas to look for better opportunities. For rural youth, the creation of decent employment is much more than just a job. It is a life-changing opportunity to build a brighter future through self-empowerment.

We run an Operator Training Institute at our northern integrated facility at Unnati, Greater Noida. The state-of-the-art Training Centre at Unnati houses classrooms, training workshop, training aids of global standard and a demo ground. The objective of this project is to provide requisite skill in operating earthmoving equipment to the underprivileged youth of the society, thereby increasing their employability in the market.

The youth falling under the bracket of workers / Operators are often a victim of exploitation in the form of underpay by their recruiters as they do not have any official recognition of their capability. On successful completion of the program at our training institute, the operators are awarded with a certificate. This acts as an endorsement of their newly acquired skill and in turn enables them to demand the right pay for the right job.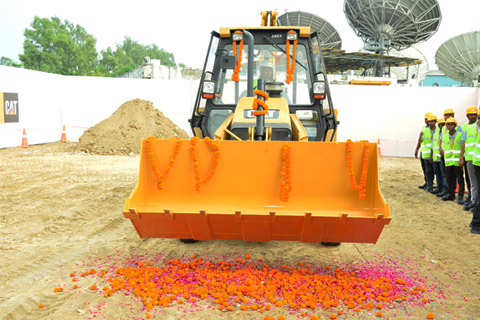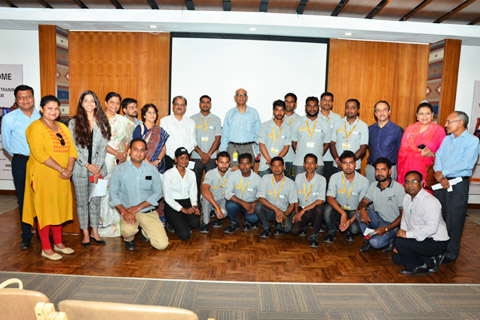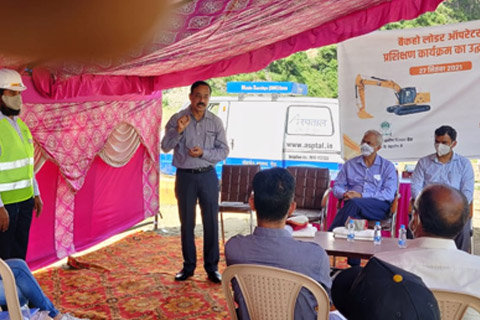 Disaster Relief
The state of West Bengal witnessed one of its most severe cyclones in recent history on 20 May 2020. Through news channels and video footage the world watched gigantic tidal waves crashing into the seawall at Digha and Sunderban region. The destruction caused is unprecedented in recent public memory. Millions of people were rendered displaced and homeless as cyclone Amphan cut a path of destruction through half-a-dozen districts of West Bengal. It blew away thatched houses, uprooted trees, electric poles and swamped low lying towns and villages, as per official accounts.

The cyclone wreaked havoc leaving a trail of devastation all over Kolkata, capital of West Bengal. A conservative estimate pegged the total number of trees felled by the monstrous super cyclone to be 5500. Streets and homes in low lying areas of Kolkata were swamped with rainwater. Portions of several dilapidated buildings came crashing down in the city and other parts of the state.

Gainwell in its commitment to create a larger societal impact, stepped up to augment the disaster relief efforts of the State government through Bhagwanti Memorial Foundation (BMF), in association with Caterpillar India. We joined forces with Kolkata City Civil Administration to restore essential infrastructure and services in cyclone-ravaged areas. Cat 424B2 Backhoe Loaders were deployed for clearing the uprooted trees and cleaning the mountain of debris, all towards supporting the efforts to reinstate normalcy in the city. The machines were used for over two weeks and played a crucial role in rebuilding Kolkata.

Gainwell and Caterpillar have always been at the forefront of relief efforts in the face of natural disasters. In the past, they have collectively taken responsibility and provided assistance in the disaster relief efforts to support the people of Odisha whose lives were ravaged under the impact of Cyclone Fani.