CAT® Inspect
Tired of The Paper Chase? Download CAT® Inspect
There is no cost to download the mobile app. The app is available for Apple devices on iOS7 and newer, Android devices on Jelly Bean 4.1 and newer, and Windows 8.0 and newer tablets.
Simplify The CAT® Inspection Process
The new Cat 6 Inspect app makes inspections easy, turning your mobile device into a centralized information gathering hub for all your Cat equipment.
Digital inspections provide real-time information for review, retention, and printing.
Optimized for mixed fleet owners: Secure inspection results for Cat and non Cat assets in One place.
Red, Yellow, or Green ratings allow for quick identification of actionable items
Prioritize repair spend budget based on inspection results and status
Help screens available within the inspections for applicable information
Assign inspections and review results from various employees
Addratings, make comments, and take pictures during inspections
Integrated with other systems like VisionLink® for a big picture view of your fleet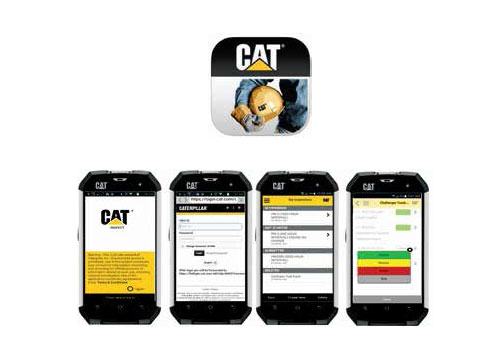 The Cat Inspect App will be available later this year. https://catinspectWeb.cat.com
---
Detaled Inspection
Three Inspection Type
Before each shift, should take about 10 to 15 minutes. This includes checking the fluid and a four corner inspection and greasing
A technical analysis 1 (TA-1)
BETWEEN 250-500HOURS SERVICEA more in-depth visual inspection, which takes 30 minutes to an hour and includes Lower, Mid, Upper and Implements and attachments.
A technical analysis 2(TA-2)
AT EVERY 2,000HOURS A very in-depth analysis that requires specialized tools and a skilled inspection person to check areas such as Cycle times, system pressures and engine power. A TA2 gets your machine adjusted back to peak Operating Condition.
FLUIDS: Fluid level check: this includes fuel, oil, Coolant and hydraulic fluid. Low fluid levels can damage machines
THE FOUR-CORNER INSPECTION: Check the electrical system, especially fornubbing Orloosewires,
FUIDS: Make sure there are no puddles of fluid under the machine